Hey everyone,
Christmas is just around the corner and if you are still confused about what to gift your loved ones, then this article is for you. Sometimes having so many options can also put you in a fix and you get confused what to select and what to reject. In this article I share with you the 5 gift rule along with some relevant Christmas gift ideas.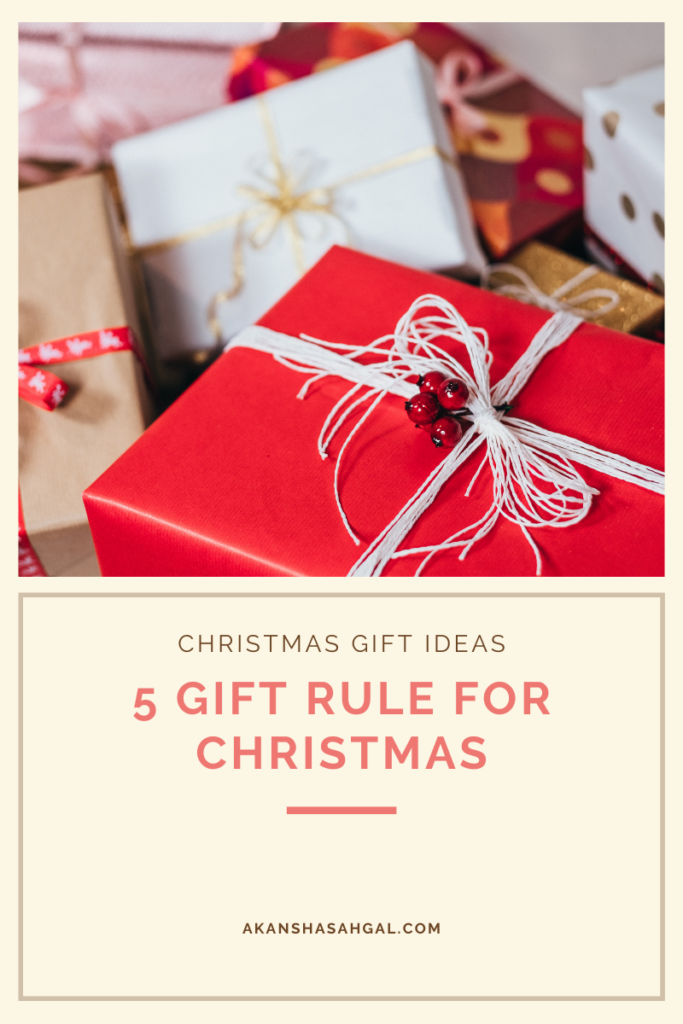 Some of you might be knowing about the 4 gift rule, but I recently came across the 5 gift rule, so I thought I will share that with you all and include some gift ideas along with the explanation of the rule. I discussed about this in one of my latest videos as well. You can check out the video below. But if you like reading, then keep on continuing with this article.
The 5 gift rule has 5 components, namely, want, need, wear, read and experience. You can work around these 5 components to shorten down the various Christmas gift ideas that are running through your mind. Let us now discuss these components in detail below:
1. Want
Want is basically something that a person desires but is not essential for him. What a person wants can make a really great Christmas gift for them. To find out what a person wants you can go through their Christmas wish list and voila you'll have your answers. But, if you are not able to find out what they want, here are some options to choose from:
Toys
Video games
Electronic gadgets
Sports equipment
Home decor
Kitchen and Dining
2) Need
When we talk about need, it is more than a want, it is something that is essential to a person. It is very easy to understand the needs of your loved ones and think of a gift accordingly. Needs can be linked to the liking or hobbies of a person as well. Let us have a look at some gift ideas in this category:
Books: For all the people who are book lovers
Art and Craft Supplies: People who like art or craft projects
Gadgets: For someone who really need a particular gadget like a new phone or camera etc
Phone case: Everyone has a phone these days, and a phone case never hurt anyone
Sports Equipment: For someone who is into sports, any related equipment will be less
3) Wear
No one says no to any new clothing or accessory in a gift. So if you are someone who knows the taste of your loved ones well in clothing, then this is the best option to go for. Let us see what all you can go for this Christmas season:
Sweater
Socks
Cap
Shirt/Top
Cosmetics
Sunglasses
Accessories for women: Jewellery like earrings, necklace etc, handbag etc.
Accessories for men: Tie, cuff links, wallet etc.
4) Read
For all the people who love reading, this is it. And by reading, I don't mean just novels, but anything that they like to read. Even if someone likes to read their own writings, you can go for journals as a Christmas gift. Here are a few ideas that you can go for in this category:
Novels
GK books
Journals
E-books
Subscriptions
Magazines
Activity books
Story books
5) Experience
This is my favorite of all. Experience gifts are not something like the above material gifts. But they are much more special as you are gifting some kind of an overall experience to your loved ones. This experience will be there in the minds of your loved ones as a great memory throughout their lives. Some of the experience gifts that you can go for are:
Road trip
Zoo
Amusement park
Movie night
Date night
Spa day
Family Olympics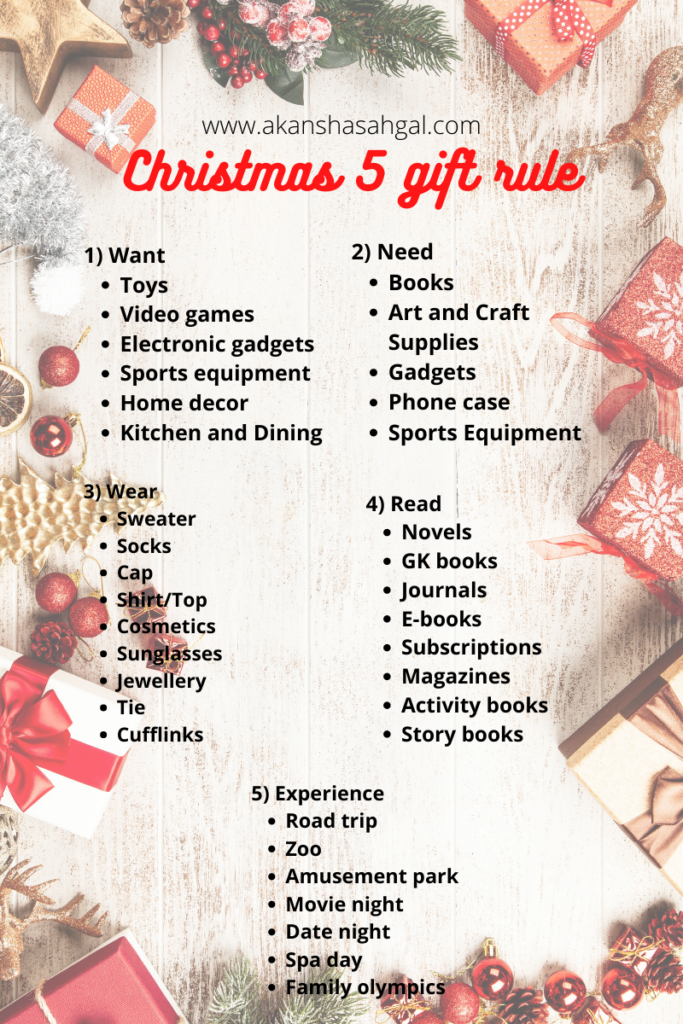 I hope these ideas will help you this Christmas season. If you apply any of the ideas make sure to share your pictures with me on my social media. Also, I have some more ideas, specifically for those who are living away from their friends or family. You can find those ideas here. Let me know in the comments section below, how helpful this article was and what you want me to cover next.
JOIN MY TRIBE